Canada Soccer coach Stephen Hart was in no mood for frowning despite Canada's failure to beat Honduras on Tuesday night. Al Dannity says Hart has seen a change in attitude from his charges and that could mean a lot in the road games to come.
Still in control
With such an importance placed on home games in World Cup qualifiers, it's easy to see Tuesday's 0-0 draw with Honduras at BMO Field as a setback for Canada. The result however still leaves Canada in control of qualification however, with a 3 point advantage over Honduras. Naturally this is well short of the potential 6 point edge Canada would have gained with a home win but the performance of Canada in this match-up showed potential to get results on the road.
Canada took the game to the visitors from the start on Tuesday night, in front on a raucous pro-Canadian crowd. This made for quite a change from when the sides met four years ago in Montreal, in the qualifiers for the 2010 World Cup. That match-up was almost like an extra home game for Honduras. Stephen Hart recognized the difference this time around and said the fans made a huge difference on Tuesday night.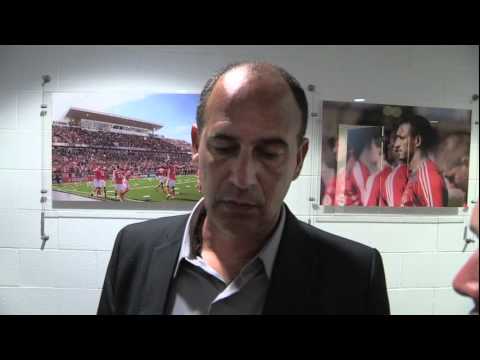 Hart will have plenty of reason to be proud of his players who outshot the Hondurans 12-6. They may not have made the breakthrough but Canada showed the kind of attacking endeavour that will keep them in the fight for road games with Panama and Honduras.
The long game
With Panama winning 1-0 at home to Cuba on Tuesday, they now top the group on 6 points from 6 after two games. Canada sits second on 4 points with Honduras on 1 point back in third. Cuba is fourth and bottom with no points. With four games to go, Panama is in charge but their back to back games with Canada could dictate which two teams progress to the final stage of qualification.
Canada will host Panama at BMO Field on September 7, confident of another strong pro-Canadian crowd. After a sluggish showing from Panama in their win over Cuba, Hart's team won't be afraid to go out and attack again. With a win at home, Canada would travel to Panama four days later knowing a draw would be enough to control their destiny. Traditionally teams prefer to play at home in the second game of back-to-backs but a strong showing in their first match could give Canada the confidence to steal a point on the road.
The road to Brazil may not have got any shorter after last night but Canada remains in the driver's seat.
Follow Sports Interaction on Twitter.
Related posts: